Whole Wheat
Whole Wheat "Outstanding in Their Field"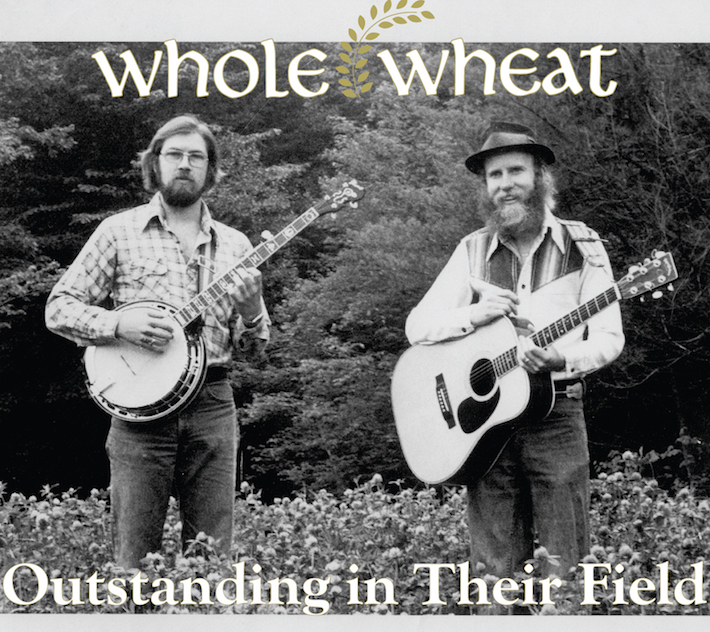 Whole Wheat
Outstanding in Their Field
Rick Fiske: Guitar, Vocals Michael Nix: Banjo, Guitar, Vocals Charlie Moser: Mandolin Mark Eaton: Bass
Whole Wheat in Concert, Mable Brown Room, Keene State College, Keene, NH, Friday, February 4, 1983
This live performance CD was produced in loving memory of Rick Fiske who passed away in 1993. The first 19 tracks were recorded on a Sony two track reel to reel at the Mable Brown Room at Keene State College, in Keene, NH on the evening of Feb. 4, 1983. A fund raiser for the Keene State College Guitar Orchestra (Michael was an assistant Professor of music at Keene State at the time) who was raising funds for a tour of California, the Philippines, and Hong Kong. Charlie Moser and Mark Eaton round out the band.
The last two tracks were taken from a TEAC 4-track cassette recording of a live duo performance to showcase two of Rick's beloved compositions.
Rick Fiske and I first met at the Acoustic Guitar Convention held at the Temple Mountain Ski Area in Peterborough, NH on September 29, 1974. I was playing an original song with my current band mates, Charlie Moser and Albert Leach. After a few informal jam sessions, Rick, Charlie and I discovered we shared a passion for a wide range of music (folk, rock, bluegrass, blues, country and traditional Americana), a love of acoustic instruments, and an intuitive way with two-part vocal harmony. Whole Wheat began back in 1975 and 1976 while Michael and Rick and Charlie were working on their undergraduate music degrees at Keene State College in New Hampshire. Informal performances in duo and trio formats at fraternities and the college Pub soon led to winter work in the ski country of Vermont and summer performances in the Lakes Region of New Hampshire. In 1980 Whole Wheat was accepted on the New Hampshire Council on the Arts Touring program. At this time Whole Wheat was heard live on many area radio stations, including WSLE, a progressive station with heavy folk programming in Peterborough, NH. They performed at outdoor fairs, festivals, schools, colleges, and well-known New England coffee house concert clubs including the Chelsea House in Brattleboro Vermont, and the Folkway in Peterborough, NH. Whole Wheat was also active in the Grand Monadnock Arts Council's "Arts for Special Audiences" program performing in hospitals, nursing homes, and prisons. Arts and Educational Residencies through out New England brought them to schools, nursing homes, senior citizens and concert stages.
---
Now Accepting PayPal, Venmo and Credit Card Payments
PayPal/credit card payments: paypal.me/NixWorks
Venmo payments: www.venmo.com/NixWorks
Order by check :
Send $15 for each CD,
add $2 S&H for each CD's to:

NixWorks
PO Box 400
Greenfield, MA 01302