NixWorks Academy Zoom Classes and Workshops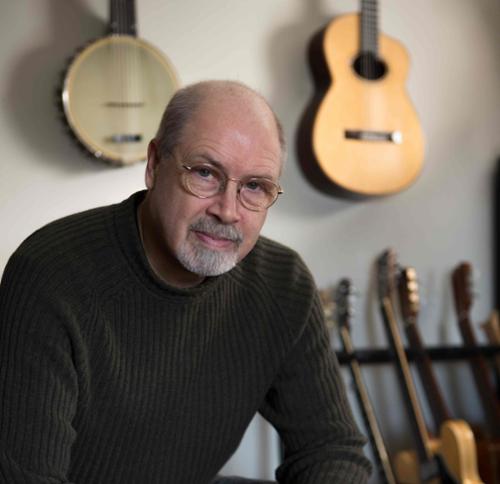 Michael Nix
Music Theory 101 for Plucked String Players
Four Thursdays 2/18/21 - 3/11/21, 7:30 - 8:15 pm, Eastern Standard Time
Composer and multi-instrumentalist Michael Nix teaches an overview Zoom course on fundamental music theory for plucked string players laying out the concepts of scales and chords along a string and across the fretboard rather than the traditional keyboard centric presentation. The course will not utilize classical notation. Any instrument - guitar, banjo, mandolin, etc. -with a G string is welcome. Each session will cover an hour of material with a 15 minute open Q & A time to follow. A great way to introduce your self, or fill some of those holes in on your basic theory skills!
• 2/18/21 Session 1: The rudiments of music
A graphic overview of music theory, the musical alphabet, half steps and whole steps, sharps and flats as functions, the Chromatic scale, enharmonic equivalents, and chromatic scale fingering considerations for fretted instruments.
• 2/25/21 Session 2, Major, Minor Scales and Modes
The tetrachord, Scale formulas, the diatonic rule, how to generate a major scale in any key along a string, modes, the minor scale, folding the scales across the strings.
• 3/4/21 Session 3: Triads - 3 note Chords and the V7 chord
Chords as vertical structures, deriving triads from the major scale, names of the chord members, deriving the seven chords in a major key, identifying chord qualities, adding the 7th to the V chord for maximum tension, doubling notes to derive plucked instrument chord shapes, folding the triads over across the strings.
• 3/11/21 Session 4: Tension and Release, I, IV and V: The "Three Pillars of Harmony"
Tension in music, melodic tension, harmonic tension, the relative tension of of I, IV and V, common chord progressions using and how they work, simple song forms based on I, IV, V progressions.
Price: Four 75 minute sessions
$100 for the four class session / Computer
Level: Skilled beginner (6 months) on up.
Prerequisite: Any instrumentalist is welcome to participate. Your instrument should have a G string as all of the basic concepts will be laid out along this single string. You will be best prepared for this class if you have had some beginner lessons, and can play a bit of melody and G, C, D chords on your instrument with some facility. You do not need to know how to read music.
Class Parameters:
Upon registration a class outline, exercises, and songs for each class in .pdf format will be emailed to you as an attachment.

Students may only register for the entire four class series of sessions as the concepts for a new class are built on the concepts discussed in the previous classes.

There will be several opportunities to ask questions during the session. The final 15 minutes is reserved for follow up questions via Zoom chat, or verbally.

Late registrations received after a half hour before the session cannot be guaranteed to receive the email pdf. I will be screen sharing the pdf during the session, and I can email the pdf after the class.

A link to a video of each Zoom class will be available to all participants within couple of days of the class enabling you to review the material at your own speed.

This is a fundamental music skill building course, so you will get a greater benefit from the course if you practice the material as I have laid it out for each class so you have worked out your foundational skills for the following class.

If your questions cannot be answered in the short review times and the 15 minute Q & A , I would urge you to schedule a private Zoom lesson to dig deeper into the concepts.
To register: /contact
Private lessons link: /p/20/Private-Lessons
Michael Nix taught Music Theory at the University of Massachusetts in Amherst, and at Greenfield Community College in Greenfield, MA.
Nix performs on classical guitar, banjo, and mandolin throughout the United States and Asia, and he has recorded for the PBS series "American Experience", independent documentaries, and numerous CD projects. His compositions are performed internationally. His music has been heard on "Weekend Edition", and other NPR programs. Nix has performed his compositions at the Smithsonian Museum of American History, and with Seeger collaborator, Lorre Wyatt, participated in Seegerfest 2014, commemorating the life of Pete Seeger.
A banjo innovator and composer, Nix designed the Banjar; a modern seven string banjo combining elements of the five-string banjo and classical guitar; bringing the classic finger-style banjo of the late 1800's into the twenty first century. He initiated the New Classic Banjo project to compose, commission, record, and perform new works for the classic finger-style banjo
NixWorks website: www.NixWorks.com
Michael Nix and New Classic Banjo Project performance site: www.michaelnixmusic.com
NixWorks accepts registration payment through PayPal. Please use the form below to register and pay with a credit card or your PayPal balance. Thank you!
NixWorks Academy Registrations